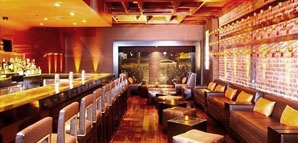 When a dull, gray week dissolves into a blue scorcher of a weekend like this one, a barbecue is basically inevitable. But sometimes you favor your cookouts without, you know, all that cooking.

Let a pro handle the grill at Neighborhood Barbecue Night, a classy take on the American tradition now occurring every Sunday evening through the summer at Santa Monica's Wilshire Restaurant.

Once you've made your reservation, gathered your guests and taken your seats—you'll want to head near the fire pits on the back patio on those chillier nights—your work is done. You don't even necessarily have to decide between Baby Back Ribs, Pulled Kurobata Pork or Kobe Santa Maria Tri-Tip. Just order the large Mixed Grill platter for the table, roll up your sleeves and dig in. All the expected sides are available, from potato salad to corn on the cob...and liquor, of course. (She'll appreciate the new seasonal concoctions full of strawberries and mint; you'll have another brew, thanks.)

The regular menu is still available on these nights as well, but that's kind of like bringing your own plate to somebody else's backyard blowout.

It just isn't done.