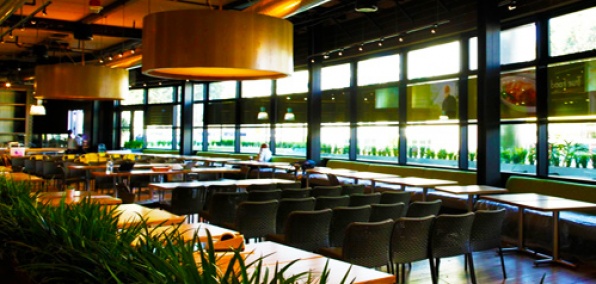 Summer's coming. The beach is calling. You have a problem.
It's not that you don't look good. But the last couple of months have been a bit decadent. These days your usual six-pack is more like... a five-and-a-half-pack.
So it's time to tune up at
True Food Kitchen
, a beach-adjacent emporium of healthy eats (and that includes beer and wine), opening a week from today in Santa Monica.
You'll find this indoor-outdoor sprawl of concrete, glass and greenery at Santa Monica Place, right at the end of the Promenade. Don't get distracted by the
duck tacos
nearby—today you're here for a
Tuscan Kale Salad
, a
Turkey Burger on a Flax Seed Bun
and a
Spaghetti
Squash Casserole
. Remember, the calendar has turned to May—it's crunch time. (No, seriously. Some crunches wouldn't hurt.)
But it won't be so bad: they consider beer and wine healthy here too, as long as they come from places that throw around words like "organic" and "sustainable." (Good enough for you.)
They're doing lunch, dinner and weekend brunch, so they're pretty much open whenever you need to avoid temptation. Have your meal on the giant patio, or take it to go and stroll down to the beach.
It's a little bigger than the patio.