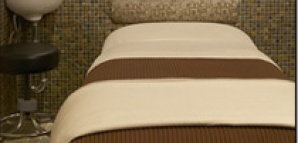 Tsar Nicholas II had his priorities right. Instead of bothering with mundane details like governing Russia, he spent hours every day in the banya (Russian steam sauna) and consumed a staggering 400,000 bottles of champagne per year. Sure, he was eventually executed by his own people, but he lived well.

Inspired by the opulent habits of the tsars, and mindful of the hectic lifestyle most New York guys lead, Russian-born Andre Izrailov created Okeanos, a new club for men that combines the therapies and communal culture of an authentic Russian bath house with the luxury of a European spa. Traditional treatments like massage and body wraps are available, but the bread and butter (or caviar and vodka) of Okeanos are banya, the aforementioned sauna, and platza, therapeutic brushing of the body with steam-softened birch leaves.

While platza might sound a little too Russian, the process of being heated, cooled, heated, and brushed with birch leaves is strangely invigorating and supremely relaxing. Post-platza features include complementary Heidsieck Monopole champagne (Tsar Nicholas's favorite), caviar from nearby Petrossian and a plush lounge complete with chess, wi-fi and flat screen TVs.

Everything you need to live like a tsar, minus the execution.