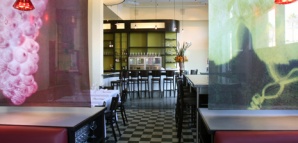 Your quest to enjoy good wine in under-explored locales has taken you from hideaways in Napa to
parking garages in Beverly Hills
.
But this may be your most unexpected stop yet: Glendale, where the city's finest seven-level wine storage facility unveils a sprawling new restaurant/shop/lounge/library—
Palate Food + Wine
, soft-opening Friday.
Step into Palate and you'll find a bright, industrial-looking dining room at the front, where you can peruse the deep Euro-centric wine list at the small bar, the tall steel communal table or a spot for two under a giant pot of illuminated blown-glass grapes (her favorite). The Mediterranean menu from Octavio Becerra (who helped Joachim Splichal launch Patina, in case you care about these things) will be constantly changing, not unlike your driving route to reach Glendale.
And within a few weeks, you'll get to investigate the labyrinth behind. There'll be a cavernous wine shop with about 700 bottles for sale to stay or to go, a tasting bar to help you decide and a loading dock-turned-patio lounge. You'll also have access to a walk-in cheese humidor—yes, we're excited about that too—and a curtained library that welcomes your favorite bottles.
As all good libraries should.