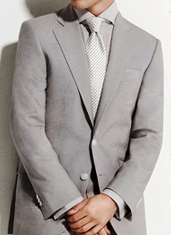 Starting today, you'll be in good company.
And by good company, we mean the seventh-richest man in the world (he founded Oracle) and Chad Ochocinco.
No, we're not talking about your underground cocktail club for NFL players and software developers.
We're talking suits.
Enter
Astor & Black
, a new-to-Dallas custom suiting service that comes straight to your door, taking appointments now.
This is what you get when you combine a tailoring shop with your living room. These guys have measured everyone from the owner of the 49ers to Shawne Merriman—so they can handle anything up to and including "NFL-sized."
So it'll start with a call to one of their two local agents. They'll show up to your home or office with a suitcase and an iPad. You'll peruse the Italian fabrics. You'll look at images on the iPad for inspiration. Finally, you'll get measured 30 different ways, and give them input on every detail—from whether the lapel is peaked or notched to what you want embroidered under the collar. (Your family crest should do.)
Finally, your measurements will be sent to Asia, where your suit will be handmade. Then, in five weeks, your agent will hand-deliver your suit to make sure everything fits just right. And in case you need another one, your measurements will be on file.
You do like a good wardrobe change.