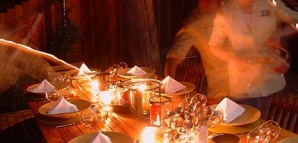 Contrary to popular opinion, dinner is the most important meal of the day.

So perhaps you should be spending it with some people who care enough to bring you flavors you won't see at your usual haunts. Check out Subculture Dining, our preferred underground food club.

Started by a chef (better known as the "Dissident Chef")eager to put his 25 years of culinary experience—working at Wolfgang Puck's Spago and as head chef for the Counting Crows—to good use, this project is away for him to get closer to the ingredients he uses (like truffles and whole roasted pig) and the people he feeds. Most dinners are 9 to 15 courses and have a theme, like the recent Recchiutti Chocolate dinner with Cocoa-Nib Crusted Lamb and Cold-Poached Duck in Cacao Butter—and the upcoming Golden Gate Meats dinner (much better than the Embarcadero Roadkill Hoedown).

As with anything worth its hype, getting in requires connections. Your best shot is to be invited by a member; otherwise your name goes on a list for approval. On the day of, you'll get an email with instructions, a number to the "control center" and a password. Once you make the call, someone emerges from the home, warehouse or whatever moving-target space you find yourself at and escorts you inside.

By dessert, you may have new friends, or a date. Just try not to eat and tell.