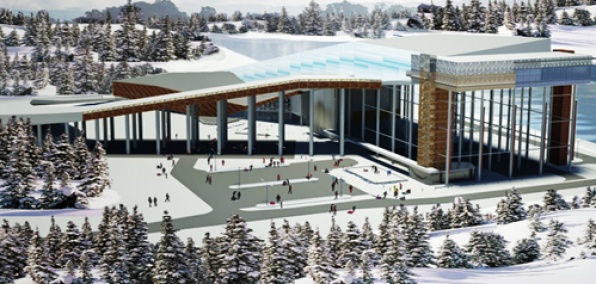 Nature: awe-inspiring. Also, a little slow.

Mountains, for example—they require millions of years of creeping glaciers and shifts in the earth's crust to form.

But take an expert in complex cooling systems, an industrial crane or three, and humanity's overwhelming desire to ski year-round, on the other hand...

Introducing Snoras Snow Arena, an indoor ski resort set in a decidedly unmountainous Lithuanian spa town, opening next month and taking reservations now.

Basically, it's man's greatest-ever attempt to re-create the winter sports experience in a walk-in freezer. There are two indoor slopes—the main is 1,500 feet long and 25 stories high; the bunny slope is wider and shorter—and a larger outdoor piste that runs when the natural temperature drops below 41 degrees.

So say you're traipsing around Vilnius in the middle of July and you feel a sudden urge to pull a double cork off a jump in a snow park (it could happen). Hire a car, head to Druskininkai, and in around two hours you'll be doing your best Shaun White impression.

We hear there's a lively après-ski scene at the Eskimo, an ice-covered bar that serves hot buttered rum and its warm cocktail brethren. And as you'll likely work up an appetite, you'll want to check out the restaurant with 360-degree views of the surrounding forest.

It's hot out there.