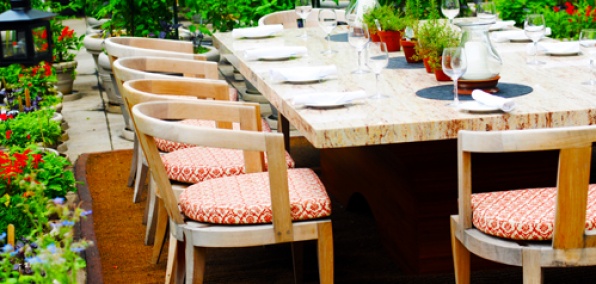 Drinking outdoors. It doesn't require much else in the way of accoutrements.
Which isn't to say there can't be enhancements. Especially when they come in the form of massive frankfurters, boozy punches and wine served from revolutionary new vessels.
Presenting
Kegs of Wine in the Courtyard at Poste
, available just in time for the scintillating weather in store for you this weekend.
You've undoubtedly whiled away a happy hour or two in this huge courtyard, surrounded on four sides by marble walls. But now, in addition to the planter boxes of herbs, you'll notice kegs. Lots of 'em. Filled with... wine.
Don't be alarmed. These are honest-to-goodness Sonoma cabs and sauvignon blancs, whipped up by a respected vintner before they're put into steel casks, which hold 26 bottles each (your group of sun worshippers will take two).
And because man cannot live on wine alone, the chef is rolling out
a new garden menu
of massive housemade hot dogs, truffled frites and a rotating array of ice cream sandwiches.
If you get tapped out on the wine, you can take to sampling their punch bar for concoctions like the
Flower Power
(tequila, St-Germain, lime and hibiscus tea), or beers like Flying Dog Double IPA.
Which we hear also comes in keg form.