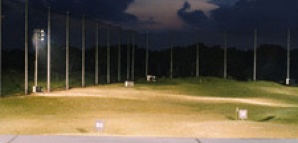 Golf is a great game, but we could sometimes do without the walking, the retrieving of balls and the scorekeeping.

For the best part of it—the hitting—without all that annoying "accountability" and "exercise," we submit the new Randall's Island Golf Center.

Officially reopening this Wednesday (after a cool half-mil in renovations), Randall's is a remote golf playground off the coast of the UES, highlighted by a two-tier driving range with over 80 stalls and 320 yards of vast grassy openness on which to launch drives (and watch someone else collect them). It's outdoors, but the stalls are covered, so there's no chance of getting soaked on days like today, and a bucket of 160 balls runs you a mere $12. (Should you or your Rene Russo-esque lady friend want some personal attention, the mayor's own golf advisor, PGA Pro Tom Sutter, has left his 10-year post at the Chelsea Piers to teach here.)

But Randall's isn't all about distance. There's a short game area with a sand bunker, two miniature golf courses tucked in among blossoming trees and nine batting cages. Beginning May 24, they'll be serving beer in their sunset-ready beer garden and grill, which also offers steak sandwiches and waitresses.

Which means no walking is required here, either.