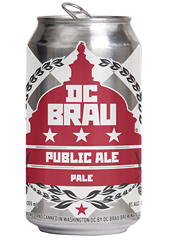 This just in: you've been taxed. Again. Without even so much as a simple vote in the House of Representatives for your troubles.
But, we're happy to report, our humble city is now officially represented in the world of beer.
Say hello to
DC Brau's Public Ale
, the first beer produced within District limits since the 1950s, available beginning tonight (and throughout the weekend) only at
Meridian Pint
.
This is the chance you've been looking for to go native when confronted with a line of beer taps. Produced in a Northeast DC facility that's been churning out kegs nearly 24/7 since getting its license (fittingly) on St. Patrick's Day, this is a 6%, unfiltered brew from which you can expect citrusy hops and a lingering finish (it's the
Lord of the Rings
of microbrews).
You'll want to get there early tonight for two reasons: first, because that's when the brewers will tap the first keg ever produced; and second, so you and your hoppy friends can claim seats around one of the self-serve table taps, which will all be pouring Public Ale.
Starting Monday, you can grab a pint at taps all over town, and by early May, you can take home a sixer of cans from your corner store as well as sample two other releases—an IPA and a Belgian-style ale.
And in the coming months, they're going to begin offering custom-brewed, private-label beers.
Because you've always wanted your own Tabasco-infused beer.