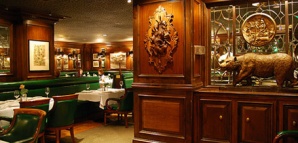 There's not much you don't like about meat—except maybe the monotony.

So consider a little carnivorous adventure with Wild Game Week at The Big Four Restaurant in Nob Hill. Normally held in the fall, this is the first time in the event's16-year history that you can get a springtime taste of yak tenderloin.

Executive Chef Gloria Ciccarone-Nehls, who came to The Big Four 29 years ago, has been known to serve rattlesnake (she's not opposed to python if she finds a quality one—which is tougher than you might think) and kangaroo. While you can see wild game on the menu year-round, what makes this week so special is that the entire menu reads like a safari-styled wild beast feast. Start with the secret Walk on the Wild Side platter—it's not on the menu, but you'll get to sample all seven apps, including wild boar carnitas tacos and grilled goose sliders. Next, move on to entrees like buttermilk brined rabbit (it tastes as cute as it sounds), pan-seared Alaskan caribou and that pancetta crusted Himalayan yak.

The space's hunting club vibe—there are lots of Gold Rush artifacts and green leather banquettes—lends itself to a guy's night, but is also romantic enough (dark, with a cozy bar) for a date.

Just make sure she's not vegan.