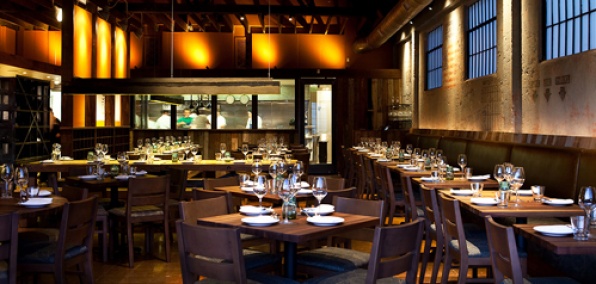 You'll go to the ends of the earth for greatness.

You just visited your cufflinks guy in the Himalayas. You make an annual pilgrimage to Spain for wine. You once went to Djibouti for some quality butter knives.

And for amazing seafood and some Bacon Cheddar Buttermilk Biscuits, you'll even go to... Manhattan Beach.

Presenting M.B. Post, a rustic new spot from one of the city's best seafood chefs, now taking reservations for its Monday debut.

To understand this place, first think about Michelin-starred chef David LeFevre's magic in the kitchen at Water Grill in Downtown—it's been on the list of LA's best seafood spots for ages. But don't think about the rather... conservative dining room.

Instead, you'll now be stepping into his casual neighborhood spot by the Manhattan Beach pier. It looks like a place where the cast of The Expendables might dine: concrete floors, walls of old railway lumber, a bar held up by old volleyball posts.

You'll lead your caravan to the central communal table to fully embrace the neighborhood-dinner-party vibe, and start with some Manhattan Avenues—they're like Manhattans rimmed with bacon dust.

And then you'll order... a lot. Warm housemade bread. Sea Salt and Caraway Pretzels. Maybe some Pale Ale Battered Halibut.

Gotta fuel up for the journey home.