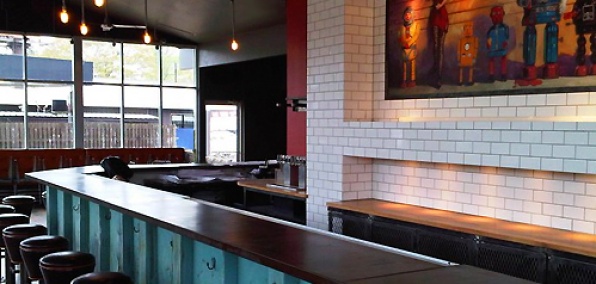 Hi.

It's us again. And today, we'd like to switch things up by sharing a bit of non-breaking news: burgers are delicious.

And while unconfirmed, we also have it on good authority that the burger will never go extinct.

Ever...

So to that end, allow us to point you in the direction of Grindhouse Killer Burgers—the bigger, stronger, boozier version of the Sweet Auburn Curb Market's flagship burger joint, finally slated to open early next week in Piedmont Heights.

At the risk of being presumptuous, we're pretty sure that at some point you've sidled up to the bar at the Curb Market mother ship. We're also pretty sure you promptly requisitioned a chocolate peanut butter milkshake and an Apache Style double with roasted green chilies and pepper jack. Nothing wrong with that.

But there's also nothing wrong with an old car wash on Piedmont being overhauled into a retro-style burger palace complete with subway-tiled walls, dark hardwoods and a room-length bar (and yes, this one actually serves alcohol). Which is where you'll grab a stool under the giant robot-y mural before claiming one of six boozy milkshakes and a Yankee Style topped with thick-cut bacon and blue cheese spread.

Of course, you could always just head outside to the covered patio and do the same thing there.

When life gives you boozy milkshakes...