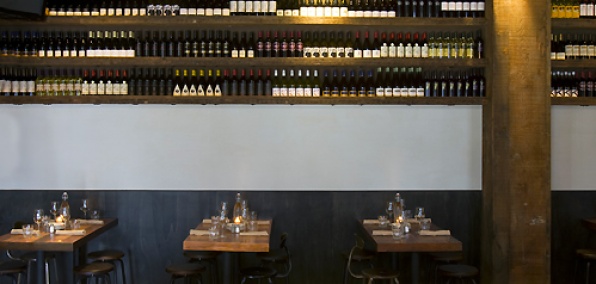 Bars are good. You love bars.

But you could always use the kind of place where you step up to the counter, wave over the barkeep and order another round of... Neapolitan pizzas.

So today we bring you news of a pizza bar—an idea whose time has come. Stella Rossa Pizza Bar opens Thursday on Main Street.

This isn't the kind of place where you've got too many decisions to make. You came for pizza and wine, and you'll get it—either at the 15-seat bar or at one of a handful of tables. We'd suggest settling in up front by the windows, since this is one of the few areas in town with actual foot traffic to liven things up. ("Nobody walks in LA... except on Main Street": less catchy.)

And besides, they'll bring the bar to you. They've got a roving wine cart here, so before your table is covered with crisp, hot, 12-inch pizzas topped with mushrooms, pepperoni and mozzarella and cooked quick at 650 degrees, you can start exploring a veritable wine country on wheels.

Your favorite kind of wine country.