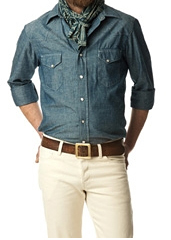 We're calling it: road trip season is now under way.


You're going to need a fast car with no top, a fetching navigator and directions to the world's largest ball of twine.
Oh, and you should probably wear some clothes.
So it's time to acquaint yourself with Imogene + Willie, a new online shop of road-trip-ready gear, now open.
It's the kind of place where Merle Haggard might have gone to pick up his semiformal trucker tux. They've been outfitting the Nashville area with chambray shirts and low-key wool ties for a few years now from their brick-and-mortar outpost in a retrofitted gas station. And now that they've arrived on the Web, you can pick up their goods without going to Tennessee. Although, if it's on the way...
So the next time you're invited to go fly-fishing with the Savannah Chamber of Commerce—you know a guy—you can pick up the perfect faded flannel and a duck canvas jacket for the occasion. For the pièce de résistance, you can grab, say, a vintage pony-fur army pack from World War II, a nearly 100-year-old Louis Vuitton wardrobe trunk or a T-shirt from the Rolling Stones' 1975 US tour.


Road trips are always better with Keef.