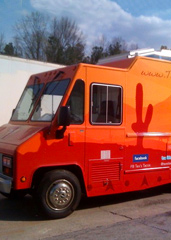 So here we are, together again on this beautiful Monday of Mondays.
So yeah, we won't keep you long...
Just long enough to tell you about a new wave of late-night food intake technology.
Here's a hint: it involves 2am fajita fries and Slush Puppies.
Here's another hint: it's a new food truck called
Tex's Tacos
, a moving target of all things "Nueva Texicana" (we're looking at you, Topo Chico mineral water), now gearing up for its inaugural voyage in just a few short days.
Think of this as the Antonio Banderas of food trucks. Actually, don't. Instead, just think of it as a rolling Tex-Mex factory nomadically dispensing carne asada through all hours of the day and night.
On weekends, you'll be able to find it nestled between a menagerie of Buckhead bars until 2am. Which means you can adequately sustain your self-directed dance floor highlight reel with
Pulled Pork BBQ Quesadillas
and lime-dusted fries topped with steak, salsa fresca and queso.
And you'll want to
keep track of things on Twitter
, but you may also be happy to hear that they plan on making plenty of daytime pit stops in places like Virginia Highland, Midtown and Decatur.
Don't worry, fajita fries are good in the afternoon, too.