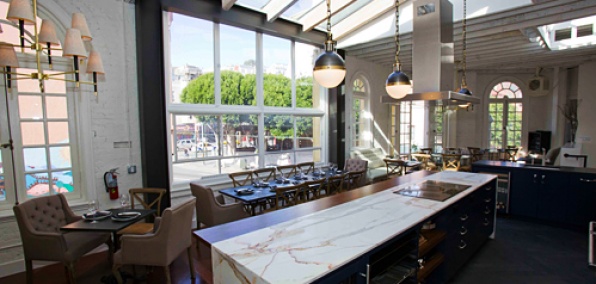 You take the good with the bad.

Like in the case of playing host: party = good; cleanup = bad.

In a magical world, you'd have a designated entertainment center for such endeavors, and a team of people to do the legwork.

Welcome to that magical world...

Introducing Cookhouse, a Parisian-esque loft in the heart of North Beach, manned by two women who'll take care of all your hosting needs, available now for every permutation of a get-together you can conceive.

Think of this second-story space above Vesuvio as an extension of home: there when you want the comforts of a full-size projector screen for watching games, a professional kitchen (and chef to put it to good use), a crew of OCD assistants to ensure everything's in place and a space that's inviting enough for two but can fit 50.

The most work you'll do is climb up the flight of winding stairs to this airy loft with more windows than walls. After you describe your vision—anything from hosting poker night, to screening games with burgers and beer, to an intimate seven-course dinner party with all of the formality—Jen and Amy will get the rest.

You'll likely start coming up with excuses to have parties, so you'll want a membership. On top of discounts on the space, you'll gain access to their parties and other benefits like the upcoming coworking wi-fi café.

Organizing your inbox might not be out of the question...