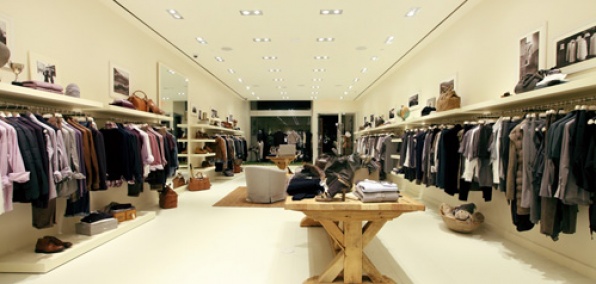 Let's talk about your clothes.
You've found them in some unexpected places—
the mind of John Malkovich
and
a space-age parking garage
, to name a few.
And now, a medieval hamlet in the Italian countryside... that happens to be in Bal Harbour.
Welcome to
Brunello Cucinelli
, a temple of crisp button-downs and smart suiting from an Italian cashmere guru (as if there's any other kind), now open.
If you're unfamiliar with Brunello, here's what you need to know. Man sets out to make unbelievably soft cashmere. Man uses wool from the throat of a goat. (As one does.) Man hunkers down in an abandoned castle in a 13th-century town outside of Rome. The sweaters are a hit, the town grows, and the world becomes a softer and more dapper place.
So this new shop. Because cashmere season is coming to a close—frigid office A/C notwithstanding—you'll want to focus on the non-wool items. Cuffed cargo pants perfect for beachy picnics. Crisp button-downs that work over swim trunks for an impromptu yacht-side barbecue. And blazers, made of linen, silk and, well, wool, in colors like sand. The look: what Clooney would wear on the beach at Lake Como.
Hey, the man knows a thing or two about Italy.