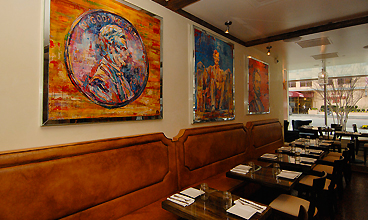 Your weekend plans: epic. And: all-consuming. And: already starting.
But we just want to get this on your radar now: when you come back next week, you're going to have a meeting with the president.
Well,
a
president...
Presenting
Lincoln
, a lounge-y, small-plates-and-cocktails hangout devoted to the stoic, slender greatness of our 16th president, slated to open next week in McPherson Square.
This is the kind of place where you'll bring that date who wears business skirts by day, stilettos by night... and who may or may not have a beard fetish.
Walking in (it's the old Il Mulino space), you'll step across a floor paved with 1 million pennies (resist the urge to pick it up and take it to Coinstar) and lead your date past Pop Art–style paintings of Honest Abe, settling into one of the oversize white-leather-tufted booths.
On the menu
: plates of
Duck Sausage Rolls,
hanger steak
, Fried Quail & Waffles
and
Caramelized Grape Risotto
. (Little-known fact: Lincoln loved caramelized grape risotto.) Helping you wash it down: signature cocktails like the
Gettysburg Address
(vodka, acai spirit, lemon, beet puree) and
Honest Abe's Moonshine
.
And later on, when you return with thirsty, Civil War–buffing friends, you'll want to ask for the
Emancipation Punch
, which serves six.
Striking your best Lincoln Memorial pose: optional.