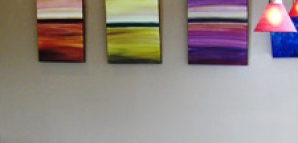 You may be a regular at every Lohan-friendly, big-name-chef-helmed hotspot in town, but sometimes you just want something simpler, something entirely less intense.

Step away from it all with an out-of-the-way discovery focused on original food—like the highly addictive Bacos. Lot 1 Café, a no-fuss find manned by a vastly underrated chef, opens tonight in...Echo Park. (That's right, Echo Park.)

It's the kind of neighborhood corner place you wouldn't look twice at—a few café tables inside, some sidewalk seating and a small side patio. (You know what they say, never judge a restaurant by its patio.) But when you take a look at the menu, you'll see dizzying combinations of ingredients put together in hard-to-classify dishes like Confit Beet Gazpacho and New Zealand John Dory with Lima Beans and Pickled Strawberries.

And then there are the chef's Bacos—think of them like giant tacos on warm homemade flatbread—in varieties like the Carne Picada (with lamb sausage, potato croquettes and caraway pepper sauce) and of course the original, The Baco (crispy pork belly, short rib carnitas and smoked paprika aioli).

You'll be a regular before you know it.