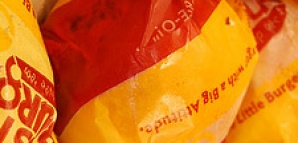 The financial district teems with power-lunch restaurants, but when it comes to grabbing a fresh, juicy burger ASAP, you're SOL.

That is, until now. Best-O-Burger ("BOB" for short), softly opening today on the corner of Belden Lane and Pine, is a counter space-only take-out joints linging gourmet sliders (by the 20-pack if you're that hungry) for the betterment of San Franciscans.

Based on the collaboration of two Meccaveterans—chef Randy Lewis and partner Steve Weber—this spot's mission is to craft a burger with the ideal bun-to-patty ratio (a worthy goal if we've ever heard one). What you won't get is a skimpy patty lost in a giant bun; instead, each three-ish-ounce slab of fresh Angus chuck is seared in a cast-iron skillet, then slid onto a proportional, baked-on-site bun and smeared with BOB's special sauce—a secret mayo-based recipe with a spicy tomato kick.

Grab the Twenty-O-Something for 20 mix-and-match sliders (they also have veggie and cheeseburger varieties), or the Best-O-Bag for a combo of either one, two or three sliders with String-Os (fries) or Ring-Os (onion rings)—we like the pile of thin, crisp onion shavings. And if you want a pint-o-beer, it's BYOB.

For the sake of the lines, though, just try to keep it on the DL.