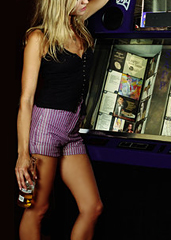 Using your phone to actually talk seems quaint these days. Almost archaic.
Everything else, on the other hand, is fair game.
And that includes mixing your bar's playlist during happy hour...
Enter
Roqbot
, an app that gives you virtual DJ powers via your phone at bars and other connected spots, in use now at Bar Basic in SoMa.
Basically, it's an updated, mobile version of a jukebox that incorporates some of the customization aspects of Pandora with a social bent, so you can take the bar's musical matters into your own hands.
Acquiring this power is reasonably simple: download the app (right now, it's available for iPhone and Android), then check into Bar Basic. From there, you can control the playlist in two ways. First, you can browse their library and buy the songs you want to hear, just like you would with a jukebox. Or you can vote thumbs up or down on the music that's playing or the songs listed in the playlist queue.
For example, your favorite Bieber track is playing. You can vote on it, then rally everyone else to follow your lead—and, with enough votes, get it permanently booted from the list.
For now, they're still in beta, but they're signing up new bars and adding updates as they go.
You're on notice, Bieber.