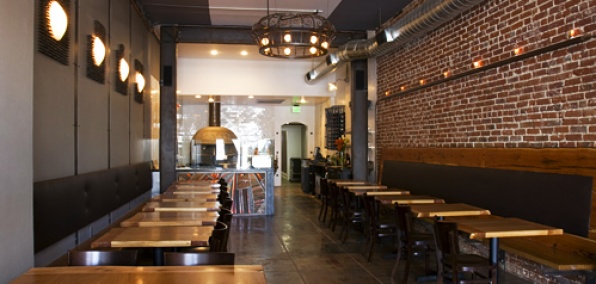 You don't ask for much from your pizza.
Just that it carry on the legacy of all great pizzas that have come before.
So you'll be intrigued by a new Neapolitan pizzeria whose piping-hot pies do that in a very literal way—
Mother Dough
is now open in Los Feliz.
Stop in when you want to fuel up before hitting Covell or a movie at the Vista, and you'll find an industrial-looking neighborhood spot from a passionate pizzaiolo/carpenter. He built your oak table by hand with some friends, and at the back by the pile of wood he's the only man at the 6,000-pound oven, which cranks out Neapolitan-style pizzas at 850 degrees in 60 seconds flat (61 seconds: too long to wait for pizza).
The chars and bubbles in the crust are part of the appeal in the land where this sort of thing is common, and the buffalo mozzarella
on your Margherita or Zucchini Pizza
is flown over weekly for maximum buffalo-ness.
And as for the name, today's batch of dough has a small amount of the previous batch kneaded in, and a small amount of today's batch will be placed into the next batch—so the mother dough's genes will carry on through the generations.
Mmm, dough chromosomes.