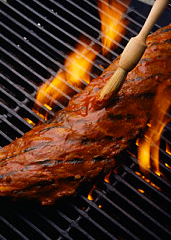 You're on a drug. It's called Charlie Sheen.
You don't drink tiger blood. You bathe in it.
Your DNA has been sequenced—confirmed 100% Adonis.
Your supply of goddesses is plentiful.
But somehow... you failed to score tickets for Charlie Sheen's debut, um, performance coming up this weekend. We'll assume you were too busy warlocking.
Still, you've got an ace up your sleeve. It's called
Charlie Sheen Night at the Piggery
—an evening of ribs, beer, trivia and Hawaiian shirts working in service of your Charlie Sheen impression, happening tonight.
Now, as you would expect from a place as dedicated to the fine art of pork as the Piggery, your evening will start with the usual menu of sauce-slathered baby backs. You'll indulge in beer specials. You will do a shot of tiger blood (a top-secret recipe... let's just say Sheen would approve). But then, around 8pm or so, you'll feel a seismic shift in the room. The lights will dim. It's showtime.
One by one, contestants will take to the stage and offer their best homage to the man who introduced the concept of #biwinning to the world. In return, only those who most invoke the spirit of Sheen will be feted with a pair of tickets to Charlie Sheen's
Violent Torpedo of Truth
and barbecue gift certificates.
Wait till you see what they do for Martin Sheen Night.