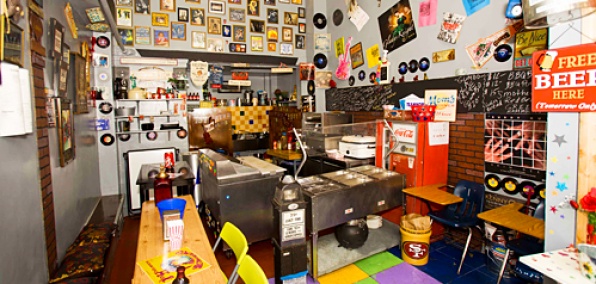 Blues and BBQ: not exactly San Francisco staples.

Still, you think you could find some room for them in your life.

In fact, we found a little sliver of them on Hyde...

Introducing Hyde Away Blues BBQ & Gumbo Cafe, a new Southern soul food joint dishing out country specialties like ribs, jambalaya and gumbo, opening Friday.

Your hosts: the Mays sisters, transplants with smokehouse roots in Mississippi and Louisiana. Their home cooking: the kind you'd have eaten if you had grown up on the bayou with a grandmother who insisted on feeding you 18-hour cherry-smoked pulled-pork sandwiches, and mac and cheese.

Here, things start at 3pm. Since it's a dime-sized space, you should be prepared for a line outside, but stay calm: they're making enough to feed 300 people, so you won't leave empty-handed. And while it's technically takeout, you can grab a seat at the window counter or the communal table—just don't expect to spread out with your Hot Links Sandwich, Jack Daniels-Glazed Ribs and sides, as no more than 20 people can squeeze in at a time.

Stepping inside, you'll notice that every inch of the walls is covered with guitars and photos of Ray Charles, Tina Turner and Jimi Hendrix, as well as family pictures, album covers and a shelf of barbecue trophies.

Trophies don't lie.