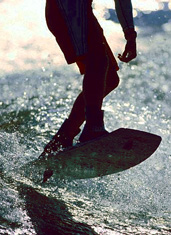 The blue skies. The hot sun. Yes, it's spring. Which means one thing...
More than 2,000 feet of cable pulling you at breakneck speeds.
Meet
WakeSport Ranch
, a private lake and the second-longest wakeboard track in the world (well played, Hassloch, Germany), now open.
So take a standard Saturday wakeboarding excursion, and envision something much more intense: Ramps. Jumps. The finest German-made cable system. (They
really
love wakeboarding in Deutschland.)
Grab your board shorts from the tailor and head 45 minutes to Cresson. Here, just off the highway, you'll find a manmade lake with six massive steel towers supporting cables that run around it. (This is the cable course—you'll probably see some pros there.)
Start at the wooden dock, where you can rent a life jacket, helmet and board—in case you forgot yours. Once strapped in, you'll sit on a padded ramp on the dock, rope in hand. And suddenly you're lifted off the ramp. You'll be flying along at 20 mph while doing a huge circle around the lake. Go ahead, jump on the rainbow rail—a grinding rail that's in the water—or blast off the remote-controlled ramp, which is operated by someone back at the dock.
Ideally, you brought a friend.