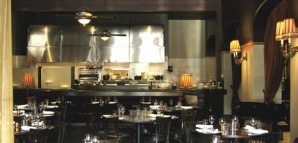 Small plates and fine dining are all well and good.

But sometimes you'd rather dig into extra-large, gut-busting portions of spaghetti and meatballs, served amid a backdrop of boisterous banter reminiscent of Sunday supper at your Italian friend's grandma's.

Joey & Eddie's, opening today in Washington Square Park, is set to be that spot.

Taking over Moose's, a timeworn SF landmark, partners Joseph Manzare (Globe, Zuppa) and Ed Maiello are infusing North Beach with a fresh dose of East Coast-style Italian. Born from their childhood nostalgia, the restaurant's primary intent (just like Nonna's) is to fill you up. Large and small groups are welcome at the long communal tables in the center of the room or at the plush, red-velvet banquettes along the perimeter—all under the watchful eye of the open kitchen. And just like at a family feast, the vibe is ideal for hanging out until closing—which you'll likely do just to make a dent in the food.

Oversized platters loaded with traditional fare like Chicken Parmigiano and Linguine with Clams are prepared by chef Jerry McGinnis (Pescheria), whose professional training maintains the illusion of home cooking. Heaping portions are generously sized to serve three or four people, for true family style, Italian style.

The only thing you might miss is the wooden spoon beating.