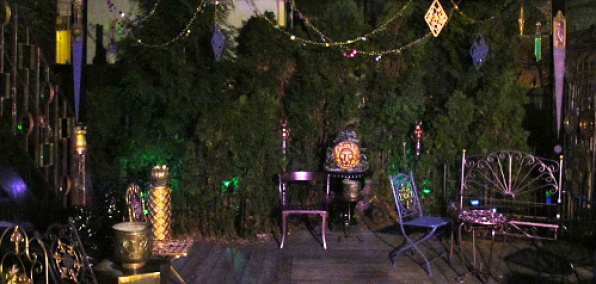 Your grill: it's lain dormant for far too long.

So much so that with the weather finally breaking, you're not merely content to lord over your own lumps of charcoal, tanks of gas and heavy grates of steel.

No, at this point, you're perfectly willing to appropriate any grill you can get your hands on. And if you've got a crowd of willing hangers-on, all the better.

Presenting The Back Patio at Little Miss Whiskey's Golden Dollar, now making arrangements to let you take over the entire outdoor space on weeknights—grill included—for your next birthday party, CD release party or carnivorous toga party.

You've been here for the odd microbrew or two (or maybe a can of Stroh's), but this time you'll make your way past the gothic mirrors and metal concert posters, and into the backyard, which looks like an eclectic New Orleanian's backyard.

While your guests are busy mulling over the conversation pieces (a bathtub, fountains adorned with lions' heads, barber chairs), you'll be hard at work at the commercial-grade grill. So while your friends are fetching you Stone Ruination and Bell's Porter (the least they could do), you'll be rolling out your famous smoked pheasant and lamb kabobs.

You'll have to vacate the patio before late-night, but not to worry: most nights, you can head upstairs, where a DJ spins till the wee hours from a sparkly vinyl booth.

He may play something special for the guy who smells like pheasant.