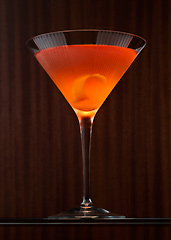 This just in: your drink is finally ready. In fact, it was mixed a month ago.
No, no, don't be alarmed. It was aging, mellowing... waiting for you. Like the cocktail equivalent of Mrs. Robinson.
What we're talking about: a rotating array of
Barrel-Aged Cocktails
, making their debut at Occidental Grill & Seafood tomorrow.
You've hung out at this old-school watering hole before, its dining room ringed with photos of VIPs past and present (feel free to bring your own 8x10 glossy). But this time, you'll notice something different: two repurposed wooden whiskey barrels, sitting ever-so-tantalizingly behind the bar. Therein lies your quarry.
In one, you'll find a fully realized Manhattan, prepped in huge quantities and spiked with maple syrup before being aged a month. Or you can opt for barrel number two, a blend of three rums (the oldest is 23 years) aged three weeks with allspice, ginger and red chili, which then gets a hit of ginger beer for an oak-y take on a Dark and Stormy.
The drinks will be recognizable, no doubt, but with a huge overtone of smoky... woodsiness. But don't take our word for it. One of the first groups to test the new drinks were Marine One pilots who fly out of the White House across the street.
We're pretty sure their shift was over.