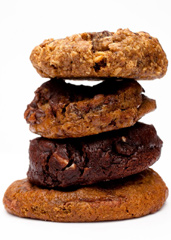 Let's talk for a moment about that desk drawer by your leg. Go on, open it up.
You've got some jerky. Some random condiments from lunches past. And oh, right—that number from the actress/singer/race car driver you met at Il Sole last night.
By the way, you owe her a call.
But what your drawer is missing is a real pick-me-up—like a cookie with the equivalent of five espresso shots baked inside.
Introducing
The Mocha Monster
, your extremely caffeinated jolt of an afternoon snack, now available from LA-based Isabella's Cookie Company.
Think of these things as your salvation around 4pm—that barren, timeless vacuum of your day when lunch is a hazy memory, you're not going to be done working anytime soon, and you're getting sleepy... very sleepy...
The specs: it's a brown sugar cookie, with big chunks of milk chocolate and, aside from all that espresso, some bourbon vanilla thrown in for good measure.
It's your favorite kind of vanilla.