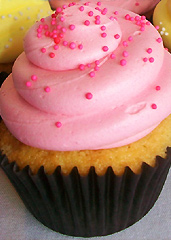 Sacrifices.
You make them every day.
Bone's just ran out of Wagyu: Kobe it is. Your assistant needs help uploading her Vegas pics to Facebook: your tee time can wait.
And making those special someones in your life happy is certainly no exception.
Although buying cupcakes from a hot pink truck comes close...
Introducing the
Yum Yum Cupcake Truck
, the city's first licensed mobile cupcakery and quite possibly the only food truck visible from space, launching next week in Midtown.
We're not saying you don't like cupcakes. It's just that you've always thought of them more as a strategic hip-pocket gifting move than a delicious assortment of tiny baked goods. And when that particular whim takes hold, you'll be happy to hear that the captain of this cake-y vessel, Nadia, has been in the game for quite a while and knows her way around an oven.
So the next time you find yourself in a giving mood, you'll want to pull up Twitter to see
where Nadia will be landing next
(for starters, look to the corner of West Peachtree and Ponce, and around Tech Square). She'll always carry staples like red velvet and peanut butter, but expect a rotating roster of four or five other flavors at a time.
Stroll up, exchange pleasantries with your lovely hostess and begin stockpiling your arsenal of orange cupcakes with marshmallow cream and vanilla cake soaked in coffee, chocolate and rum.
Sorry, it's still a hot pink truck.