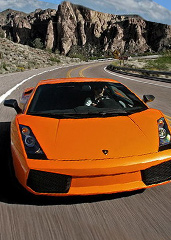 Over the winter, you've gotten a little rusty.
In particular, it's been at least four months since you had a chance to race a sports car through the desert at blinding speeds.
But we're here to say winter is over…
Introducing
Supercars in the Mojave
, your chance to take a spin in some of the fastest vehicles known to man, now taking reservations for March 22 and beyond.
The vehicles: seven top-level sports cars (including an SLR McLaren, a Ferrari F430 and a Lamborghini Gallardo Superleggera) and one last-minute surprise. (More on that shortly.) Your mission: drive the cars past the 200 mph mark and, after screeching to a halt, dramatically remove your sunglasses. (It's not a hard mission.)
You'll meet up on a former military airstrip in the Mojave Desert, and spend the day running speed trials until you've sat behind the wheel of every last car. Then, you'll wake up the next morning, head to an airport in Van Nuys and hop into that surprise: a Soviet L-39 fighter jet. The gent in the front seat, an ex-military pilot, will take you on an aerial tour of the Pacific coastline—but he'll let you take control for a while once you're safely in the air.
And later, you'll play beach volleyball while listening to Kenny Loggins.