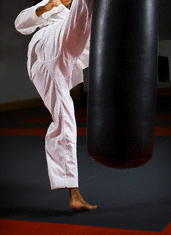 Beware the ides of March. That's usually a prudent admonition.
But today it's the ides of March that needs to watch out for you.
That's because we bring you word of
Emerald Smoke
, a gritty, MMA-style fighting gym in River West with its own cage, ready to host your personal version of fight club.
Of course, the word
gritty
is relative. It has showers and towel service, and the owner is a litigator/fighting enthusiast who spends at least part of his day juggling legal briefs. So, basically, all the workings of a one-hour legal drama.
But don't think you're in for pampering. It's mostly classes here, and you'll find the instructors are bare-knuckle brawlers. And we mean that literally—they come from the ranks of professional MMA fighters, black belts, purple belts and iron men. Your workouts will be based on the techniques found in kickboxing—Brazilian Jiu-Jitsu, Muay Thai—and, if you dare, in the deadly art of yoga.
For the most part, the classes are no-contact, but when you're ready to go one-on-one, we direct your attention to the chain-link fence ring in the back. On Friday nights, you'll show up for cage-sparring matches with nothing but padding, your wits and a will to survive.
Basically, what you wore to work.