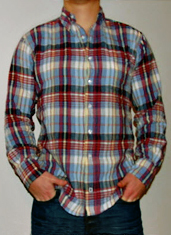 You're a citizen of the world. You prefer things start in Holland and wind through India and Pakistan before landing, inevitably, on your doorstep. And if you can throw in a little charity work in Africa, all the better.
Yes, of course, we're talking about your shirts.
Introducing
Read's Clothing Project
, a new DC-based line of shirts with a decidedly Bono-esque outlook, available now for door-to-door delivery to UrbanDaddy readers.
If you're looking for the kind of snappy white shirt you'd see at Sterling Cooper, this isn't it. Nope, these are the kind of soft vintage madras plaid, gingham and oxford shirts that will outfit your increasingly warm spring evenings.
The founder (that would be Read) sources his fabrics from India and Holland, and has them sewn in trim, flattering fits, complete with accoutrements like button-down collars and knife pleats to improve the fit (which also sound much more threatening than reverse pleats).
But it's what he does afterward that will most impress you. First, he donates 20% of all sales to schools in Africa. And second, he'll show up at your front door or office to personally hand-deliver your shirts.
You can cancel your plane to Mumbai now.