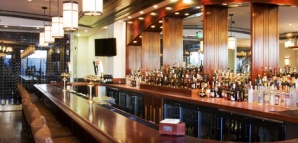 Sure, everybody loves a David-vs.-Goliath tale—but Goliath-vs.-Goliath has a bit more meat to it.

Just up the street from culinary titan Wolfgang Puck's most famous institution comes another fearless Wolfgang—his surname is Zwiener, and he's an NYC food titan in his own right. Wolfgang's Steakhouse opens tomorrow. (Game on.)

Everything's a bit bigger than it needs to be—in a good way—from the main dining area (there's a second room hidden in the back, just as big as the first) to the giant magnums of Silver Oak (the house-favorite red) to the Jumbo 3-Pound Lobster and 72-Ounce Steak for Four. But we especially like the large, bright mahogany bar, with a pair of discreet flat-screens for the game and full dinner service...a scene that's surprisingly rare in Beverly Hills. (Or maybe good steaks at the bar can just never be common enough.)

If you've got some serious business to address, though, you'll want to step inside the central glass-encased Wine Room for a private (except everyone can see you) feast.

Where there will be a few more of the city's most formidable Goliaths.