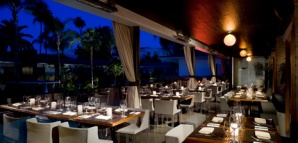 In Hollywood, you don't age—you just keep reinventing.

And so the ancient Roosevelt Hotel has found yet another enclave to update that'll summon you after dark—this one's an outdoor hideaway for steaks, martinis and wine they're calling the Dakota Bridge.

Here to finally address the longstanding feud between red meat and fresh air (prime cuts don't always need to arrive in a dark haze of stuffy mahogany), the breezy "bridge" is more like a balcony that's conceptually an extension of the hotel's Dakota Restaurant. (Perfect for a discreet date or deal.) So you'll be ordering from Dakota's menu—a classic filet, maybe, or new favorites like Braised Short Rib Canelloni and Frisee Lardon. But you'll be doing so on a cozy, private-feeling balcony far removed from the restaurant...but close to the actresses who still show up to frolic around the pool at the Tropicana Bar below.

Once seated on the bridge, you're already behind the bar's velvet rope (just the way you like it), so your table's post-dinner entertainment is pretty obvious—or you can reserve the whole thing (it seats about 40) and consider it a brand-new, open-air VIP room for the night at hand.

Like a bridge over Hollywood water.