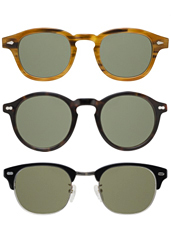 Somewhere, in a parallel universe, disco never died.
Serpico is still on the force. Leisure suits went the bespoke route. Pop-up fondue food trucks are parked on every corner.
And sunglasses evolved into something UV/strobe-light resistant.
Introducing the first-ever
Moscot Sun
, a line of shaded frames from the LES eyeglass institution that'll add a heaping of '70s New York swagger to your everyday affairs, available for preorder now.
The first set of wares rolling off the assembly line ranges from super-fly aviators to the kind of stately oversized frames you'd wear while seat-filling for Jack at the Oscars. Think: cut-out saddle bridges, rounded lenses and metal detailing that lets people know your other car is an F-16.
To aid you in finding the right pair, Moscot has plotted each new frame along a very scientific boldness scale. This way, when you walk into the landmark shop on Orchard, you'll just ask to browse the 2's if you've got a gallery event, the 3's for a jaunt down to Rio Carnival and the 4's when you're thinking of taking the law into your own hands. 
And should your tastes skew more towards the classics, you'll be relieved to know that any of the old Moscot Originals can be outfitted with the same tinted lenses the company used in the 1940s.
Feel free to refer to them as spectacles.