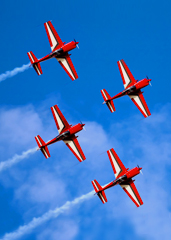 Spring: nearly here.
Time for warm weather. And clear skies. Which you'll barrel roll through at more than 200 mph...
Meet
Aerobatic Thrill Rides
, a chance for you to slice through the sky at G4 speeds, taking reservations now.
In case it wasn't clear: this isn't some casual flight into the sunset. No, this is the equivalent of a rollercoaster in the sky—one where you'll be doing rolls and flips at 210 mph.
You'll begin by heading to the Aero Country Airport, where you'll meet Dave, competitive air show pilot, current Air Force instructor and the man who will soon be taking responsibility for your life.
After signing some waivers and telling them how many G-forces you can handle, you'll strap into your vessel: a hot-red, 300-horsepower two-seater. (Feel free to kick the tires first.)
Finally, you and Dave will blast off, and he'll begin treating the Texas sky like his personal half-pipe. You'll be doing avalanche rolls (basically, consecutive flips) and hammerheads (that's when the plane flies 2,000 feet straight up and goes straight down at four G's). And after all the loops, you'll straighten out, and Dave will hand over the controls for a bit.
But we're pretty sure he'll handle the landing.