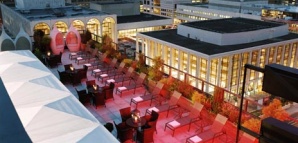 The rain is gone.

It's sunny again. And now that it's finally clear, take notice of a new little oasis sparkling at the top of the Empire Hotel—The Pooldeck opens Thursday.

Built as an exclusive 150-capacity Vegas-style pool with cabanas (more on those later), cocktail service and the requisite eye candy that naturally flocks to rooftop pools in Manhattan, the Pooldeck is set to be your new favorite UWS pool scene (actually, it's the only UWS pool scene).

The roof is split into two levels: the upper level for sunning and swimming, the lower level for cabanas and cocktailing (once the resto is open)—and both are for guests only. But don't let that intimidate you. You can get in the old fashioned way...with cash. Get a room at the hotel and you'll have access to the pool, the roof deck for cocktails and those cabanas, which come stocked with a flat screen, wireless internet and a day bed. Or, take in the services of newly opened Jeunesse Spa which offers massages on the rooftop so—you can get a little view along with your Swedish deep tissue rubdown.

If you're looking to party without a room—and without getting wet—the restaurant below the Pooldeck (Jeffery Chodorow's next big splash, we hear) will soon be open with a bar, bistro fare and some outdoor space of its own for a few drinks under the stars.

But you may end up in a room anyway...