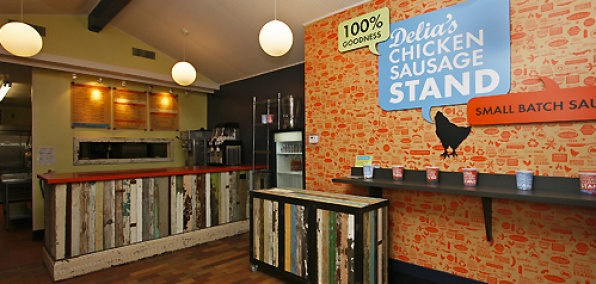 It's Saturday. Ballpark it at 3:30am.
You've just quaffed the last drop of your Sheen-tini. Brought down the house with a thrilling rendition of the Argentine tango as danced to "Marry Me" by Train (because, that's why).
And then, without warning, it happens.
That undeniable urge to deposit untold amounts of food into your mouth...
Enter
Delia's Chicken Sausage Stand
, your new late-night/early-morning emporium for
breakfast all day and Krispy Kreme chicken sausage sliders all night
, from the owners of the Flying Biscuit and the Porter, opening Monday morning in the East Atlanta Village (and open till 4am on the weekends).
First off, there's not much to see here—a floor, some walls... and that's pretty much that. But at this hour, ambiance is the least of your concerns.
So you may find yourself walking over from the Graveyard Tavern with a post–40 ounce impetus for a
Three Way
(the kind that's a chicken sausage link covered with coleslaw, chili and sauerkraut) or a
Sleazy Cheesy
with Wild Heaven beer and cheese sauce and fire pepper mustard on H&F bread.
But even if you've never been one to haunt the EAV bar circuit, we're pretty sure you'll find the aforementioned
Double D Delight Slider
particularly cab-fare worthy. And that mostly has to do with the fact that it's a chicken sausage patty laced with sour cherry and cream cheese... ominously nestled between two halves of a Krispy Kreme donut.
And by ominously, we mean not ominously.