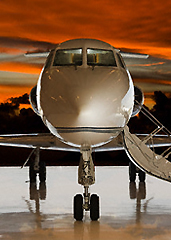 If you've got one complaint about your annual private flight to the Caribbean, it's the hassle.
You have to round up a plane and a pilot, and record some appropriately triumphant takeoff music. Not to mention arranging the cocktail-soaked landing party.
You're on your own for the party and the music, but we can help you with the plane...
Introducing
FlyRuby
, a new booking site for private jets, online now.
So say you've got a sudden trip coming up—turns out, the NCAA Selection Committee needs your expertise in seeding Gonzaga, and for some reason they're convening at Digger Phelps's vacation house in Honolulu. FlyRuby will scan through thousands of flight routes and present you with a list of bookable jets at the nearest airport. (If you're persuasive, you might be able to get them to come to your private airfield—and if you've got a private airfield, we're guessing you're pretty persuasive.)
Then you'll have to make the crucial decision between the six-seat G100 and the four-seat Beechjet. (Clearly, a private jet connoisseur such as yourself needs options.) Once you've settled on a plane, all you'll have to do is pay for it, which you can do directly from the site.
The cocktails are still on you.