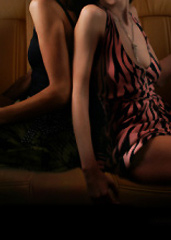 Ah, the late-night cab ride.
The driver: chatty. The ride: bumpy. And the car: yours.
Allow us to explain...
Introducing
Be My DD
, a service where a professional limo driver chauffeurs you around in your car, available now.
So there'll be two scenarios when you'll want to use this.
Scenario 1: You're planning one of those multi-stop evenings, including one very necessary costume change (you don't miss masquerade balls). Sure, you could cab it, but you did have that backseat changing room installed... So you'll give these guys a ring and schedule a pickup time and location. Then, you'll have a driver take you and your date, well, all over Dallas for as long as you want.
Scenario 2: One of those times when an unplanned evening suddenly leaves you in something less than driving shape. (Let's just say it involved Sheen, winning and at least five goddesses.) You'll call these guys, and two drivers (both fully insured) will show up, one to drive your car and the other to follow you home.
Let one of the goddesses ride shotgun.