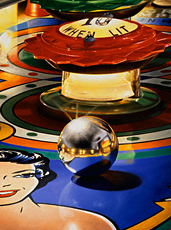 Opening Day is coming.
Expectations this season: higher than ever.
But before you begin the inevitable championship quest, you'll need to get back into fighting shape.
And change a few $20 bills into rolls of quarters... 
Welcome to the competitive world of
Pinball NYC
, a citywide co-ed league that's transforming pinball into a fully sanctioned team sport/excuse to imbibe, accepting applications now for the April 18 start.
Think of this as the most important development in bar games since ESPN5 aired flip cup back in the '90s. You'll be captaining a team of pinball mercenaries (or acquaintances with lots of loose change) through an eight-to-10-game season, where you'll face off at various bars across the five boroughs (yes, there's road games) while leaving a trail of high scores and demoralized opponents in your wake. 
Three things you'll want to concern yourself with right now: picking a team name ("Win One For The Flipper"), creating color-coordinated fanny packs (both for intimidation and prize-ticket storage) and selecting a league-sanctioned watering hole as your home turf.
Defense of your bar will be done through match-style play in weekly bouts. You'll pit your worst versus their worst, and your secret weapon versus their best in the main event finale.
Which is why every group of friends should have a deaf, dumb and blind guy.