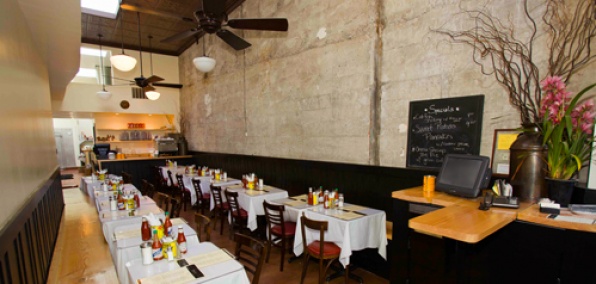 The timing couldn't be better...

Mardi Gras is around the corner, and the city is channeling New Orleans hard.



But lest you think it's all a fleeting sentiment, we've found a Mardi Gras–inspired addition that's
here to stay...



Behold: Brenda's French Soul Food, your favorite New Orleans–style brunch spot, is finally
adding dinner to the mix this Friday, serving beignets and gumbo anytime from 8am straight through until
10pm, Wednesdays through Saturdays.



Historically, if you wanted apple, chocolate or crawfish beignets before 3pm, you knew exactly where to
go—and you'd wait on that sidewalk in the cold fog for one of 28 seats if you had to. Now, while the
beignets are noticeably absent from the dinner menu, all you'll have to do is ask, and Brenda will whip up
a batch (it's hard to beat beignets on demand).



Right now, while the place is in the midst of doubling its size, you'll dine in the new,
pressed-tin-ceilinged space along the century-old exposed concrete wall while they renovate the original
half. It'll still be a tight fit, but once you slide into the banquette, you'll only care about
Broiled Oysters Casino and Shrimp & Grits with spicy bacon gravy.



For Mardi Gras, they'll be open on Tuesday and serve specials like Chicken and Andouille
Sausage Jambalaya. And as far as beer and wine go, the plan is to serve it all once ABC approves the
permit.



Someone give those guys a beignet...