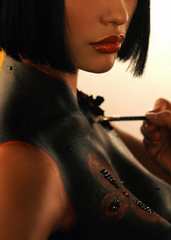 You made it to March. Congrats. If history is any indication, overcoats should be yielding to skirts and sundresses before the month is out.
But for now, they'll yield to nothing at all.
Which brings us to
Erotica 2011
, a carnival of body painting, tattoo artistry and more nude photography than you'll know what to do with, happening Friday in a Georgetown gallery.
First, a couple of disclaimers: one, this is probably not the spot for a first date. Unless your date happens to be Kat Von D.
Two, we can't say with any certainty exactly what will be on the walls as this show kicks off. You see, the gallery owner will still be taking submissions (ahem) of photography, painting and other media as late as Thursday before he decides what goes into the show. We have heard, however, that you can expect one artist who does wonders with a pinhole camera (the nude photography equivalent of going analog).
As for Friday's party, that's an open secret. After grabbing a drink at the makeshift bar, you'll see live tattoo artistry, live body painting and other such feats. The common denominator: the models (and maybe a few adventurous audience members) will all be rather free of wintry layers.
The exhibit will run for a month, and in early April you can expect a closing party, with models being adorned in luminescent, glow-in-the-dark paint.
Better get your night-vision goggles out of storage.