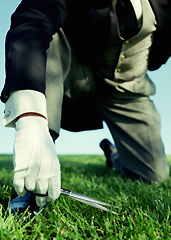 It's been a big day.
You've put out fires both literal and figurative. You've arranged to have your Oscar picked up from Scarlett's place. And, sure, that livestock deal with that Saudi prince got done... but your dry cleaning didn't.
What we're saying is: you need a hand.
Meet
Hire a Stang
, a website that allows you to hire a college student to do, well, just about anything, online now.
Imagine having a fleet of SMU's finest (presumably) at your disposal to tend to your every need: breaking in your shuffleboard table, tending bar at your next mint julep tasting, that kind of thing.
So you'll head to this website and fill out a job request outlining the gig—say, "Need someone to ride shotgun for carpool lane"—before adding the date and the price you're willing to pay. (Most go for between $12 and $30 an hour.)
Then, they'll comb their database for your ideal undergrad. They'll send over a student description along with references, the option for an interview and a price. After you approve the hourly rate, your collegiate employee will appear, ready to work.
And then your intern can begin training them.