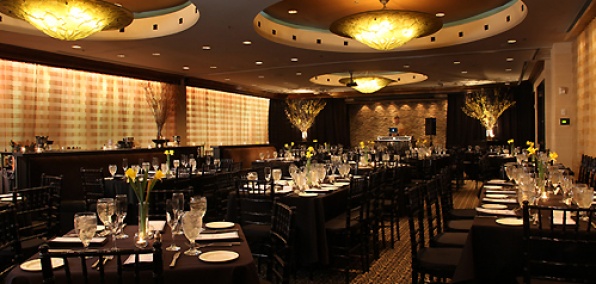 Well, hello there. You're back and rested from the three-day weekend.

So let's focus on the important stuff. Like next weekend. And where you'll be brunching... on top of a table.

Introducing Sunday School, a champagne-fueled brunch party with a DJ, fireworks and pancakes on a stick, launching this Sunday and every third Sunday of the month at Hotel ZaZa.

Think of this as a bubbly-slinging Saint-Tropez club, but with the welcome addition of cinnamon-covered french toast bites. You'll start by making a reservation for two to 30 people, depending on your jai alai club's availability. Then, come Sunday at noon, you'll take a seat at your black table in the ZaZa ballroom, which has been wrapped for the occasion in black and gold curtains.

It all starts innocently enough: mimosas, the aforementioned pancakes on a stick, a DJ. But then things get a little more interesting. Those curtains are closed. Lights are dimmed. And an army of waitresses flies out with sparklers and champagne. Plates and glasses are moved aside as each table becomes a dance floor. As glow rings are passed out, anyone from ZZ Top to a dancing panda or shot-serving tooth fairy could appear (go with it).

But then, you'll get a tap on the shoulder. It's the waitress—your beef hash and poached eggs are ready.

Apparently, the tables can also be used for eating.