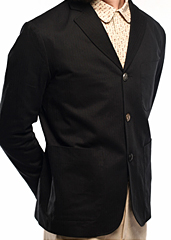 You've always followed two rules when it comes to your clothes:
1. When in doubt, wear a tuxedo.
2. If it's endorsed by an Italian, it's good enough for you.
Even when the Italian in question is actually Japanese...
Which brings us to
Monitaly
, a newly arrived line of dapper, Italian-inspired blazers and pants, available now.
If you stumbled into an eccentric Italian industrialist's closet, this is what you'd find (minus a few skeletons). It's the brainchild of a Japanese leather-tanner-turned-designer who's fascinated by colorful Italian fabrics and tailoring. You may have seen the line elsewhere (possibly during your yearly sake tour of Tokyo), but now you'll start seeing it more regularly in the States.
So the next time you get invited to a certain actor/director's Lake Como villa for a weekend of wine, pasta and discussing your next film role, you'll be prepared. In particular, we suggest the
Peter
jacket—a smart white blazer straight out of a spaghetti western—but you'll also find madras field jackets and a pair of handsome leather messenger bags.
Perfect for smuggling pasta through customs.