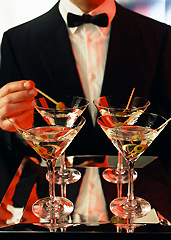 Benefit of the doubt, sure, we'll give it. But every now and again, something comes across our desk that just seems... suspect. In the most intriguing of these situations, an investigation is warranted, albeit a particularly skeptical one. We call it: Skeptical Investigations (copyright pending).

***
THE CLAIM

A new web service,
Agent Anything
, that promises college students/minions will do your bidding (wait for my table at Ippudo, deliver martinis to my office) anytime, anywhere.

THE INVESTIGATION
The following tasks were scientifically selected in order to reflect the most essential traits of a personal assistant. Patience. Quick thinking. And soft hands.
MISSION #1: SHAKE SHACK LUNCH, 11:02am
Description:
Wait in line and deliver
Shack Burgers
,
Cheese Fries
and
Hopscotch Concretes
.
Winning Bid:
Agent Jorge—$15 at 11:27am
Result:
Jorge proved to be a revelation. Burgers arrived hot, concretes arrived thick, and not a shred of line-cutting evidence was left behind.
MISSION #2: PERSONAL
MASSEUSE, 4:29pm
Description:
Massage. All day.
Winning Bid:
Agent Danielle—$45 at 1:04am (lowered from $60 at 8:08pm)
Result:
Her negotiation skills showed she was desperate. Her massage skills showed she was trained in the ancient Eastern arts of shiatsu.
MISSION #3: BLIND DATE ESCAPE,
11:01am
Description:
We have a first date of unconfirmed quality. Be on standby, ready to facilitate a getaway, create a fictional crisis and potentially get a sidecar thrown in your face.
Winning Bid:
Agent Steve—$24.99 at 11:04am
Result:
Steve's extra touch of arriving in ER scrubs really lent the old "family emergency" excuse some serious gravitas.
VERDICT
The power is intoxicating, and the service is both effective and (we're fairly certain) not illegal. Also, underlings make a great tax write-off.