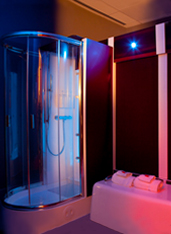 Emails. Phone calls. Meetings. Fondue parties. (Hey, they're stressful.)
It's time you got to relax.
Preferably in a massive tank of water... with caviar.
Meet
Float Parties at Adrift
, a day of massage chairs, floating cabins and just a little caviar, available now.
Your relaxation chamber for the day: something known as a floating cabin (think futuristic water pod, not Lincoln Logs). Originally used for astronaut training, this tank of water and Epsom salt allows you to float weightlessly on water—great for NASA two-a-days or just decompressing after a windy back nine.
You and your fellow gravity defiers/caviar lovers will toss on robes and slippers. Then you'll head into a dark room with two life-size statues of people praying (naturally) and a row of egg-shaped, zero-gravity massage chairs—they look like what Gaga might use to relax.
After a full-body massage, you're ready to float. You'll step into a blue chamber of salt—1,000 pounds' worth, which helps you float—and water set to your skin's exact temperature. As the colored lights dim, you'll begin floating for an hour (with or without Enya).
It's supposedly like getting four hours of REM sleep. And just as you would after a good night's rest, you'll settle into the locker-room couches afterward for champagne and caviar.
Maybe rinse the salt off first.